Monique Turbé grew up in a family of five children; she was one of three girls. Before becoming a respected hotelier, her father, Guy Turbé, was one of the first contractors on the island. Going as far back as she can remember, Monique loved watching her father at work, not realizing at the time that she was preparing herself for a bold career in real estate.
In the 1970's, Guy built the hotel La Baie des Flamands. The hotel, with twenty-four rooms located on the beach and with an incredible view of the ocean, was one of the first on St. Barts. At the time, Monique, a young 10 year old, loved visiting the worksites with her Papa. She recalls these times spent with her father – snack-time when he would open her juice bottle for her and share cookies, seated side by side on a cement block or perched in the seat of a bulldozer. Monique still loves roaming a desolate terrain and thinking of how she would build on it. "I just have to close my eyes and imagine where the building will be.
The images in my head are always extremely precise!" she confides. In 1995 Hurricane Luis left deep scars on the island, as well as in the hearts of the people. Beaches, roofs and gardens were blown or taken away. Luis destroyed the Turbé family's hotels La Baie des Flamands and farther down the beach, her father's sister's hotel,
La Baie des Anges. The patriarch preferred to retreat to the other end of the island to rebuild his hopes. First he built the St-Barth Beach Hotel and L'Hotel de la Plage on the edge of the beach at Grand Cul de Sac and soon after Les Résidences St-Barth up on the hillside.
At 15, Monique left the island to study English at the University of Springfield in New York, a memorable year spent discovering campus life. The separation both geographically from her native island and also from the family environment, allowed her to discover her interests and strengthen her character. Dyslexic, when not much was yet known about the learning disability, Monique compensated with a ferocious will to succeed.
Three months before she turning 18, Monique married Denis Magras, also from the Flamands area of the island. While awaiting the birth of her daughter Melissa, Monique oversaw her first construction site, Le White Sand Beach Cottages a compound of 4 bungalows on the edge of Flamand beach. Her hotel was successful, and her clients returned year after year, including the French singer, Gilbert Bécau who continues to enjoy vacationing there yearly. Five years later, in 1989, Monique undertook the construction of her first villa on Flamands Beach known as MWS for Monique White Sand. The villa seduced VIPs – the likes of Jackie Kennedy-Onassis vacationed there with her son John-John, as well as Roman Polanski who enjoyed the tranquility and the melody of the waves. "These memories are still alive. The people loved the natural simplicity of the villa on the beach," she explains.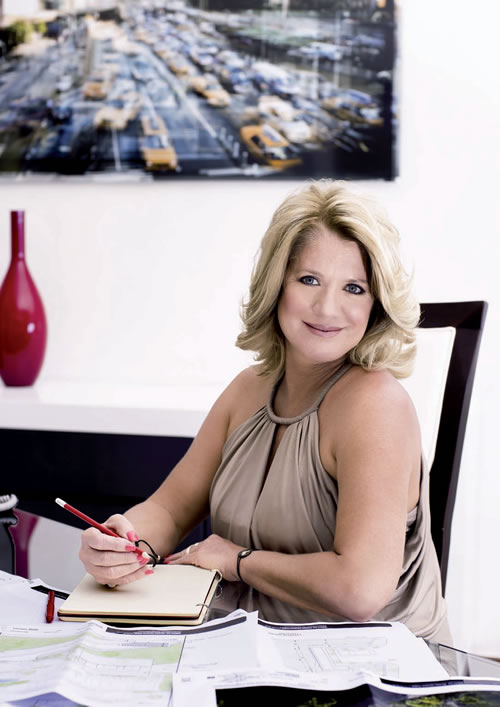 Shortly after she finished renovations, Monique's properties were left in ruins from Hurricane Luis. When the sun and the blue Caribbean sky returned, the count down began to rebuild for the arrival of the first guests of the 1995 season. The workload was tremendous, but Monique's willpower allowed for Herculean accomplishments. From early morning through the night, seven days a week, Monique worked tirelessly to rebuild MWS. The fateful moment neared. She remembers trucks coming and going, one after another, unloading sand in the garden while she anticipated the imminent moment when her American clients would appear at the villa. Mission accomplished!
But Monique didn't stop there. She continued running from one worksite to another. On the White Sand Beach property, three years later she decided to build Villa Melissa and in 1999 atop the hillside in Colombier she constructed Villa Angelo. The properties are named after her children. Obviously, Monique is filled with the desire to create a family business.
And then once again, another challenge turned out well, her daughter Mélissa graduated with a BTS certificate for accounting in Paris, and returned to the island to manage the family's villas. Monique was relieved as it gave her time to tend to her son Angelo's education.
At 13 years of age, he was expected to leave the island for France to continue his studies. "We were unaware of his dyslexia for quite a while, but happily I was able to find a school adapted to his need". Last year Villa Melissa was sold to a Venezuelan couple who that fallen in love with the villa. One villa sold, and a new one takes form. Immediately, Monique takes on the construction of her most recent villa on top of the hillside in Terre Neuve, la Villa Lenalee named after her grand daughter.
Some have given Monique the nickname, "the ruthless businesswoman." Monique claims nothing was handed to her – she had to work for all she has. Far from being heartless, as many have said, she has proven herself to be persistent and courageous, qualities that have enabled her to build her family business. She has followed in her father's footsteps he had an enormous influence on her and on her deceased brother, "I still miss Hervé enormously – he passed away when he was 35 years old, and I think of him every day." Since then she grew closer to her father who shares in her triumphs. "I am proud to be able to help my father."
Today Monique owns two popular villas, which have enjoyed a loyal clientele for over twenty years. Old and new guests alike appreciate the comfort the owners provide as well as the personalized services.