Taking a holiday in Saint-Barth is a wish of many French people, but also of Americans and more and more Brazilians and Russians. It is true that Saint-Barth is deserved, the island is not within everyone's reach, but there are hotels and villas for rent for almost all budget categories.
Located +/- 7000 km from Paris, 2500 km from New York and 250 km from Guadeloupe, it takes 8 hours by plane from Paris and only 3 hours from Miami, 4 hours from Caracas and 4h30 from New York or Montreal. The main gateway to Saint-Barthélemy is Juliana de Saint Marteen airport (Saint-Martin), only 10 minutes by plane. The time to take off from Saint-Martin that Saint-Barth points out the end of its nose. Seen from above, it is already possible to see magnificent and sumptuous villas without omitting the hotels on the beach.
The island currently offers nearly 760 villas, not to mention the 200 building permits validated since Irma. This represents a capacity of more than 2100 rooms. This complex consists of 70% villas and 30% hotels. Overall, it is 2.6 rooms per villa on average with an average of 5 beds per villa. Most of them are North Americans who own the property, followed by the French, Saint-Barths and a few Russians and Brazilians.
If you would like to book a villa or a suite in one of the island's hotels, Destination Saint Barths offers a selection of 180 luxury villas. In this selection, you will certainly find the villa of your dreams for your next vacation, but not only. Destination Saint Barths also has many prestigious villas for high-end customers.
We would like to introduce you to some of our villas:
Villa Dasha is a large villa with 3 bedrooms and 3 bathrooms on the heights of Lurin. The heated overflow pool offers an exceptional panoramic view of Gouverneur, one of the most beautiful regions on the island.
Villa Evan, quiet and relaxing, Villa Evan will seduce you with its atmosphere that blends the colours of the Caribbean with the sweetness and serenity of the countries of the rising sun. Ideal for families, it has a magnificent swimming pool and a large garden. Villa Evan is 15 minutes by car from the most beautiful beaches of the island. This villa offers an excellent quality/price ratio. The Villa Evan rate includes a boat trip for a 7-day rental. Discover here a visit of the Evan villa in 3d
Villa Rose Dog, with its inspiring design and maximum comfort. This incredible luxury villa has four rooms overlooking the Caribbean Sea, from Petit Cul de Sac to Baie de Toiny. The splendid swimming pool is a pure moment of happiness and relaxation. With such a unique view of the sea and the island of Saint-Barth, how can you not relax there for hours?
Indeed, with the services of Butterlfy Concierge, Vera, a resident of the island can take care of all your requests for reservations for restaurants, massages, sports activities, car rentals and carefully prepare your arrival in Saint-Barth. She will be waiting for you as soon as you leave the airport to answer all your requests.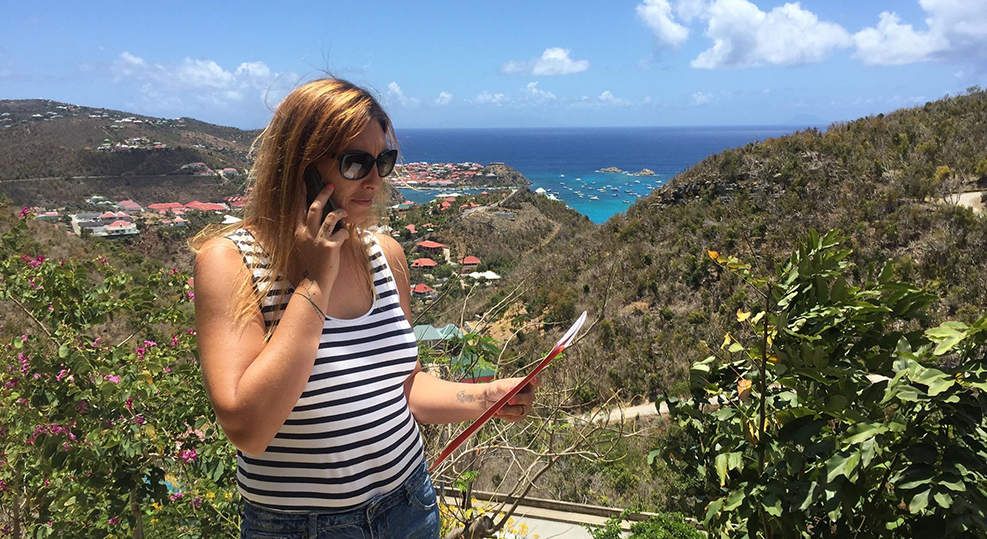 Butterfly Concierge is a specialized concierge service to bring you complete satisfaction in all your requests. Vera, speaks fluent French, English and Portuguese