Since March 16th, St.Barts is confronted as everywhere in the world with the sanitary rules of Covid-19. Indeed, all the infrastructures linked to tourism had to be closed and all our visitors had to leave the island before March 22nd. St.Barts has been completely cut off from the airways and ports.
The strict respect of the confinement, the barrier gestures, the hydroalcoholic gel, the certificate of derogatory displacement, the wearing of masks to avoid any contagion of the virus to other people, are all measures which aim to reduce the sanitary impact in St.Barts. Since February 28th, the total number of confirmed contaminations on the island was six cases. Since 21 April, there have been no more cases. This is very good news! In order to keep this positive result, an automatic testing machine at 110000 euros each must have already arrived in St.Barts, it will check sixteen patients per hour, via PCR swabs, i.e. the swab in the nose. Each test is carried out using a cartridge that costs 40 euros. The other three automatons are due to arrive in the first half of May.
For people wishing to travel, they must justify either an overriding personal and family reason (children returning to their parents' home, for example), or a health reason relating to an emergency (people undergoing regular treatment in Saint-Martin or Guadeloupe), or a professional reason that cannot be postponed (carers, specialists of all kinds). To do so, it is imperative to fill out a declaration on honour, available on the website of the Prefecture of Saint-Barthélemy.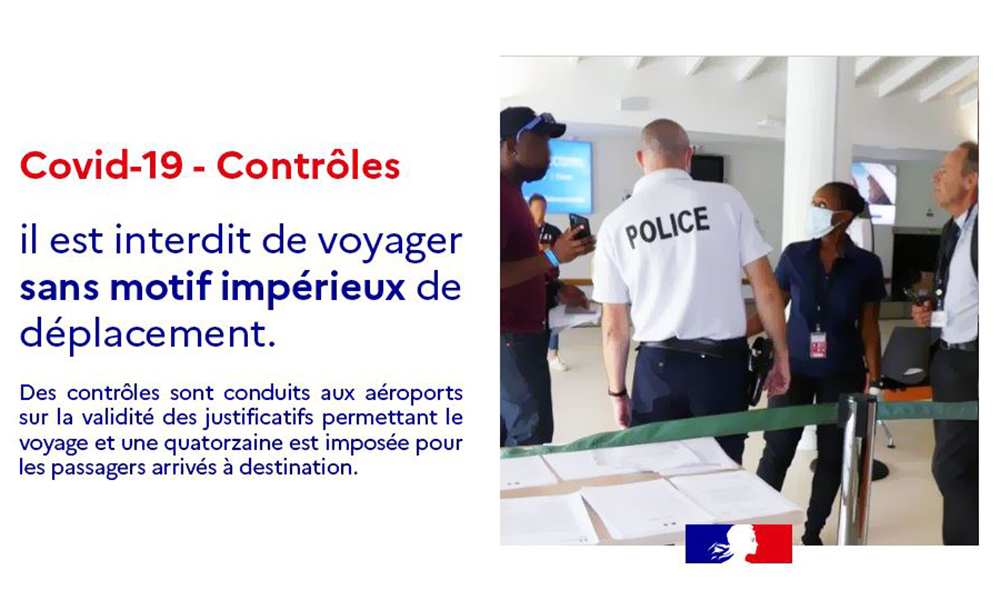 On the economic level, on 14 April, in Saint-Barth, 3410 people were benefiting from partial unemployment, for 514 companies concerned. The majority of these applications came from the trade, car repair, construction, accommodation and catering sectors. Adding Sint Maarten and Guadeloupe, the amount disbursed by the State amounts to €4.2 million. As a reminder, short-time working means that the State pays 84% of the employee's net salary (or 100% for those on minimum wage), up to a limit of 4.5 times the minimum wage, during the period of inactivity of the company.
If everyone does their bit, we can hope for a partial deconfinement from May 11th. To date, we still have no confirmation of the opening date of the airspace as we are practically dependent on the International Airport of : Princess Juliana International Aiport St. Maarten   which is the closest to St. Barths. We remain optimistic and will keep you informed of the openings continuously on our Facebook page. Let's be patient and careful!