Created by the Artists of St Barth association in 2015, the « Art Parties » have quickly become essential evenings on the island of St Barthélemy, a small jewel of the Caribbean known for its exclusivity. The concept? Exhibit local artists painters, sculptors, photographers… in magical places on the island, to discover St Barthélemy differently, through its heritage and cultural richness. On July 18, the 23rd Art Party will be held at Christopher St Barth, an emblematic 5-star hotel on the island, known for its exceptional setting facing the ocean….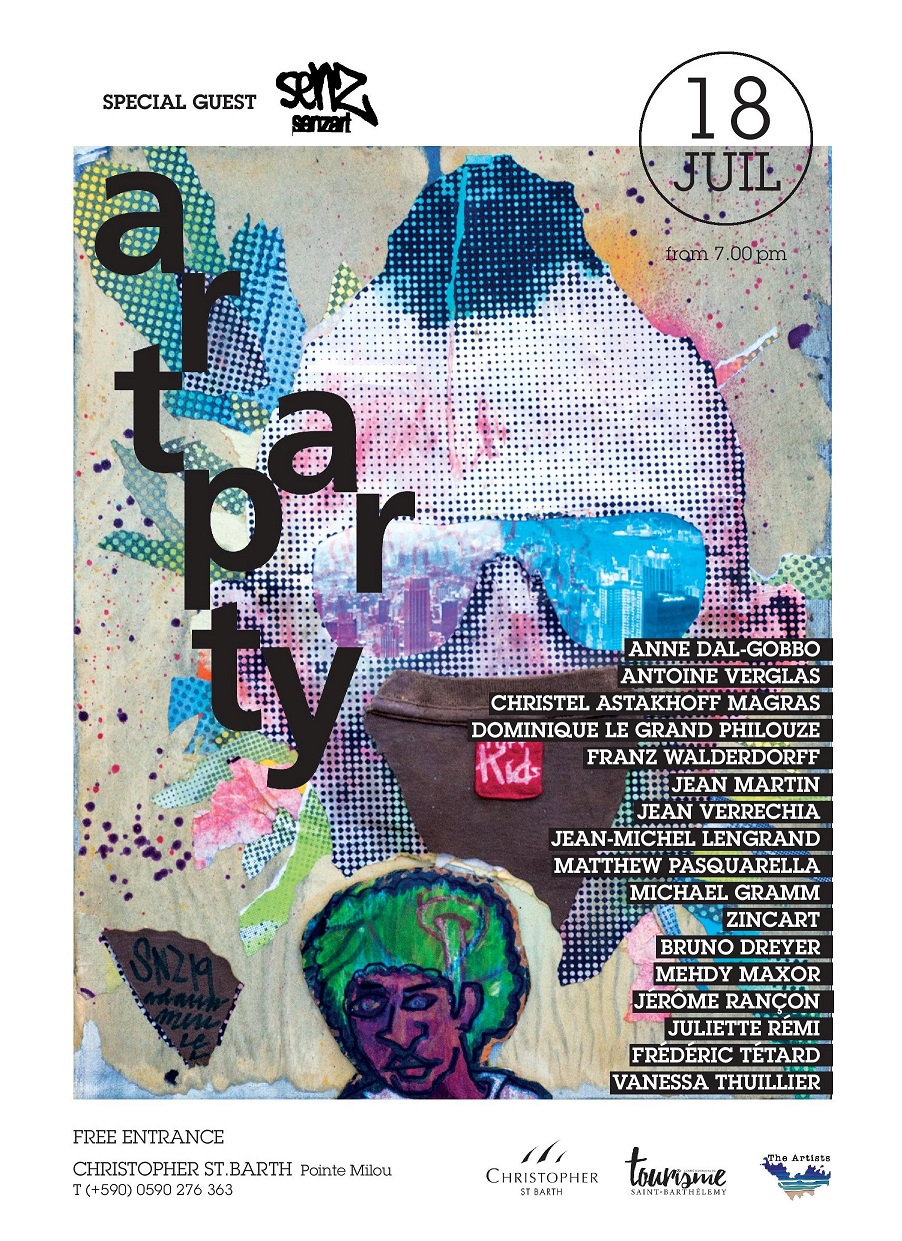 Art Party :
The Art Party on July 18 will welcome 6 painters, 3 sculptors and 9 photographers, including the 6 winners of the Bourse Nouveaux Talents, which will reward the best amateur photographers in Saint Barthélemy.
About Artists of St Barth :
The association brings together a total of nearly 50 artists and aims to promote artistic creation in Saint Barthélemy. In addition to the Art Parties every 3 months in hotels, it organizes an annual Art Week, monthly Art&Food Markets, manages a gallery in Saint Jean at Pati de St Barth and runs an Art School.
St Barthélemy was already known for its beaches, villas and hotels. It is now also a leader in artistic creation, driven by healthy competition and a stimulating market, both for villa owners and visitors who love contemporary art.
Fabienne Miot, President
About the St Barthélemy Tourism Committee :
The CSTSB wishes to give art a key role in the development of quality tourism and to the island of Saint Barthélemy an exemplary position in this field for the whole of the Caribbean.
The Tourism Committee aims to give art a key role in retaining our traditional high-end clientele and the island of Saint Barthélemy an exemplary position in this field for the entire Caribbean.
Nils Dufau, Chairman of the Tourism Committee (https://www.saintbarth-tourisme.com)
About Christopher St Barth Hotel :
Christopher 5* Hotel is located in the heart of a tropical garden. It has 42 rooms and suites, two restaurants, a Sisley Spa and an overflow pool around which the works are displayed. Throughout the evening, dishes will be served by French chef Nicolas Tissier.
About the artists :
18 artists, 6 painters, 5 of whom are exhibiting for the first time, 3 sculptors, 2 of whom are exhibiting for the first time, 9 photographers, 7 of whom are exhibiting for the first time, including the 6 winners of the Bourse Nouveaux Talents, best amateur photographers in St Barthélemy