The sixth edition of the St Barth Gourmet Festival will be held from 6 to 10 November.
Eight renowned chefs will be in residence in five hotels and three restaurants in Saint-Barth, much to the delight of fine connoisseurs of French cuisine. Yes, yes, this 2019 edition will be fantastic.
In terms of hotels, Guillaume Goupil has worked in the kitchens of the Hauts de Loire estate: at the Faventia of the Four Seasons Terre Blanche or in the prestigious Prince of Wales. He is now in charge of the kitchens of the starred restaurant (one star in the famous Michelin guide) Le Baudelaire (Hôtel Burgundy Paris – five stars). Discover the Sereno.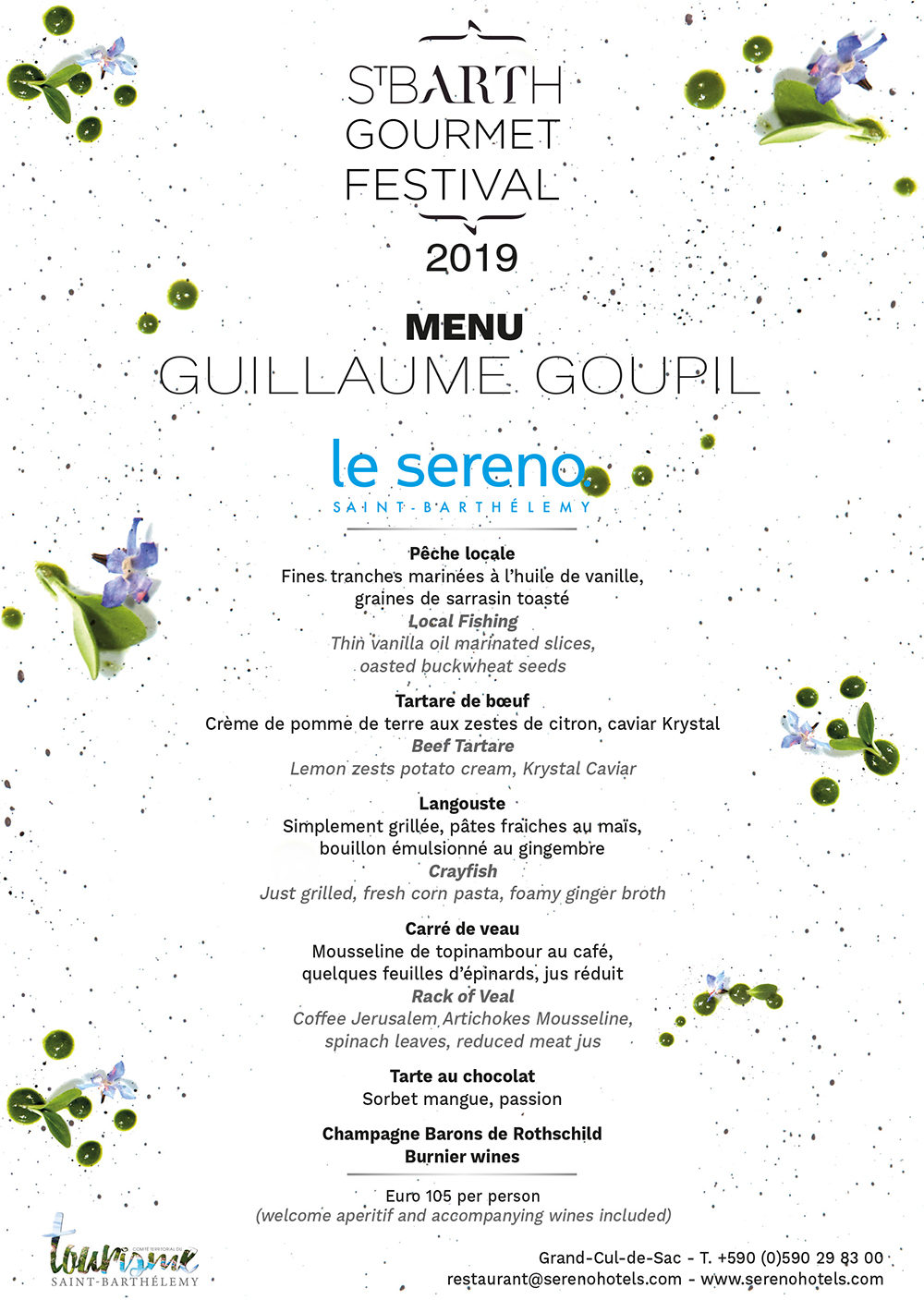 Jean-Denis Rieubland, ten years of loyal service at the head of the double star Negresco restaurant in Nice, he took over the management of the new Royal Champagne (a star in the famous Michelin guide) in Champillon. Discover its Barthélemy Hotel & Spa cuisine.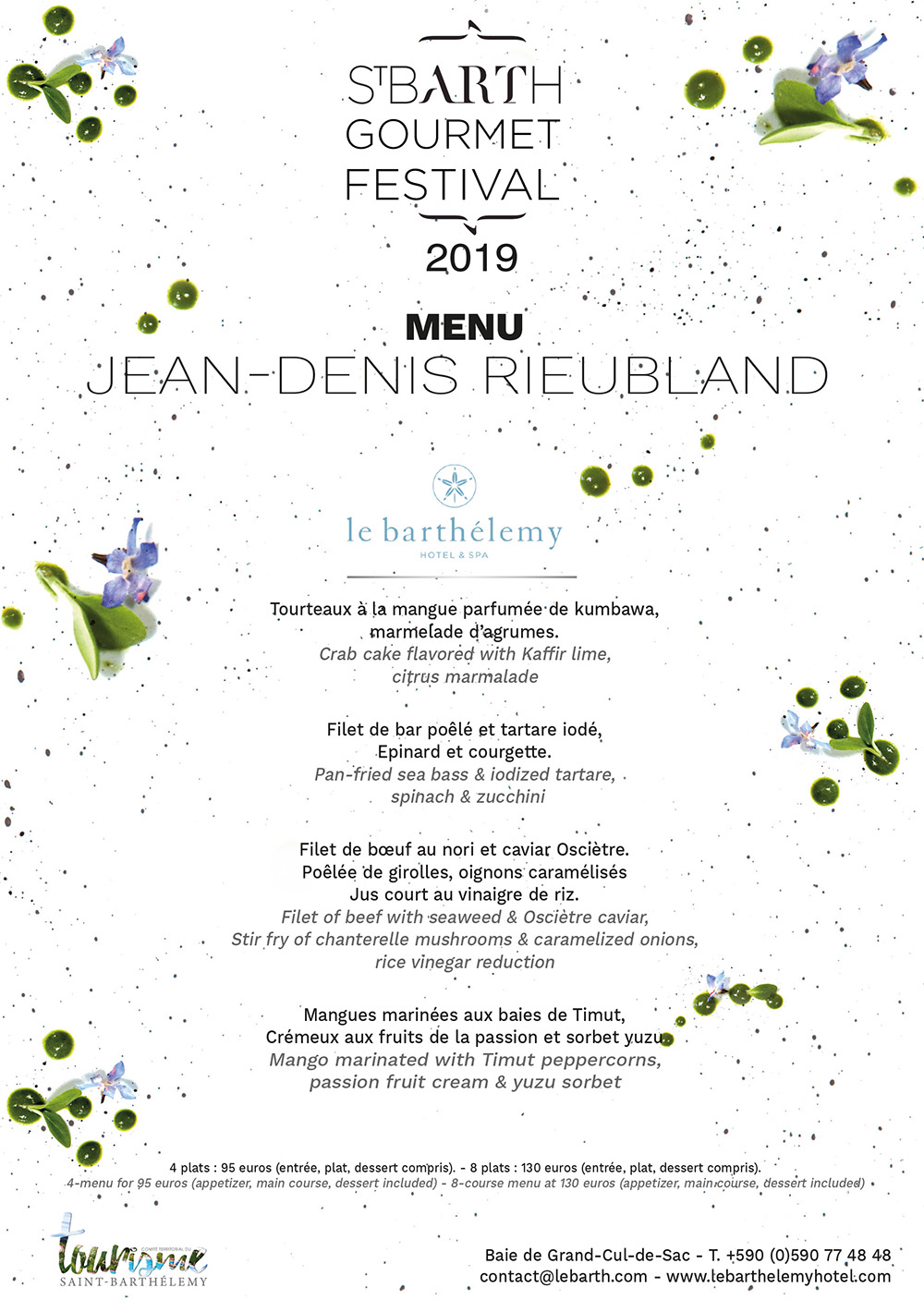 Rémi Chambard, he has worked at Hôtel Barrière Le Royal (Deauville), Hôtel du Plais (Biarritz), Grand Hôtel du Cap Ferrat (Four Seasons Hotel) in Saint-Jean-Cap-Ferrat, Sources de Caudalie (Bordeaux) and currently at Etangs de Corot (Trois Toques au Guide Gault et Millau et une étoile au célèbre Guide Michelin) for eight years. Discover Tamarin.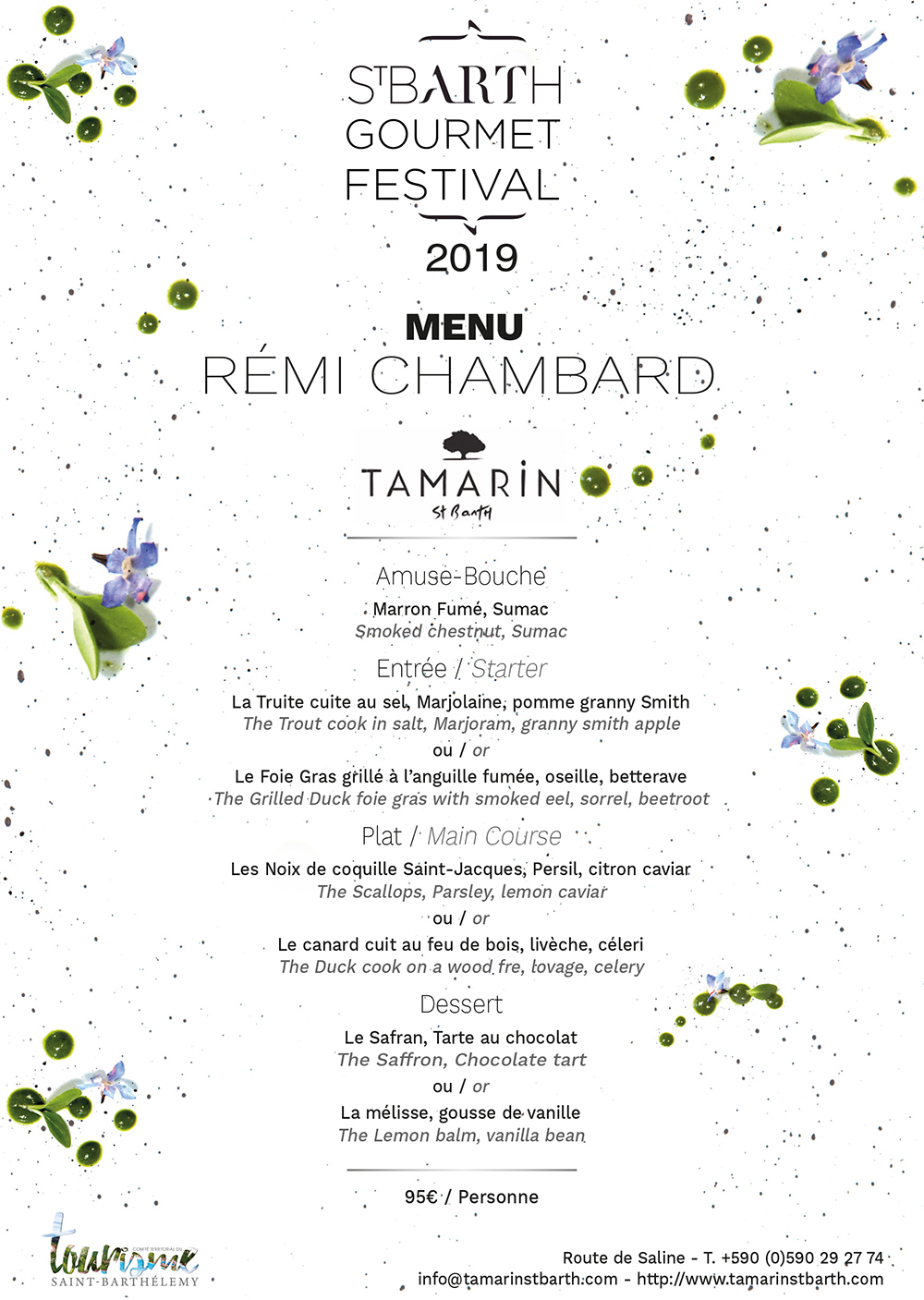 Stéphane Buron, he is in charge of the kitchens at Chabichou, a 4-star hotel, restaurant and spa in Courchevel. First Prize Taittinger International in 2002. Best worker in France in 2004. In Courchevel since 1987, he has forged his experience at the Grand Hôtel Bragard, the Martinez in Cannes, Palm Beach or the Palais de l'Elysée, excuse me for a moment. Discover it at the Manapany Hotel.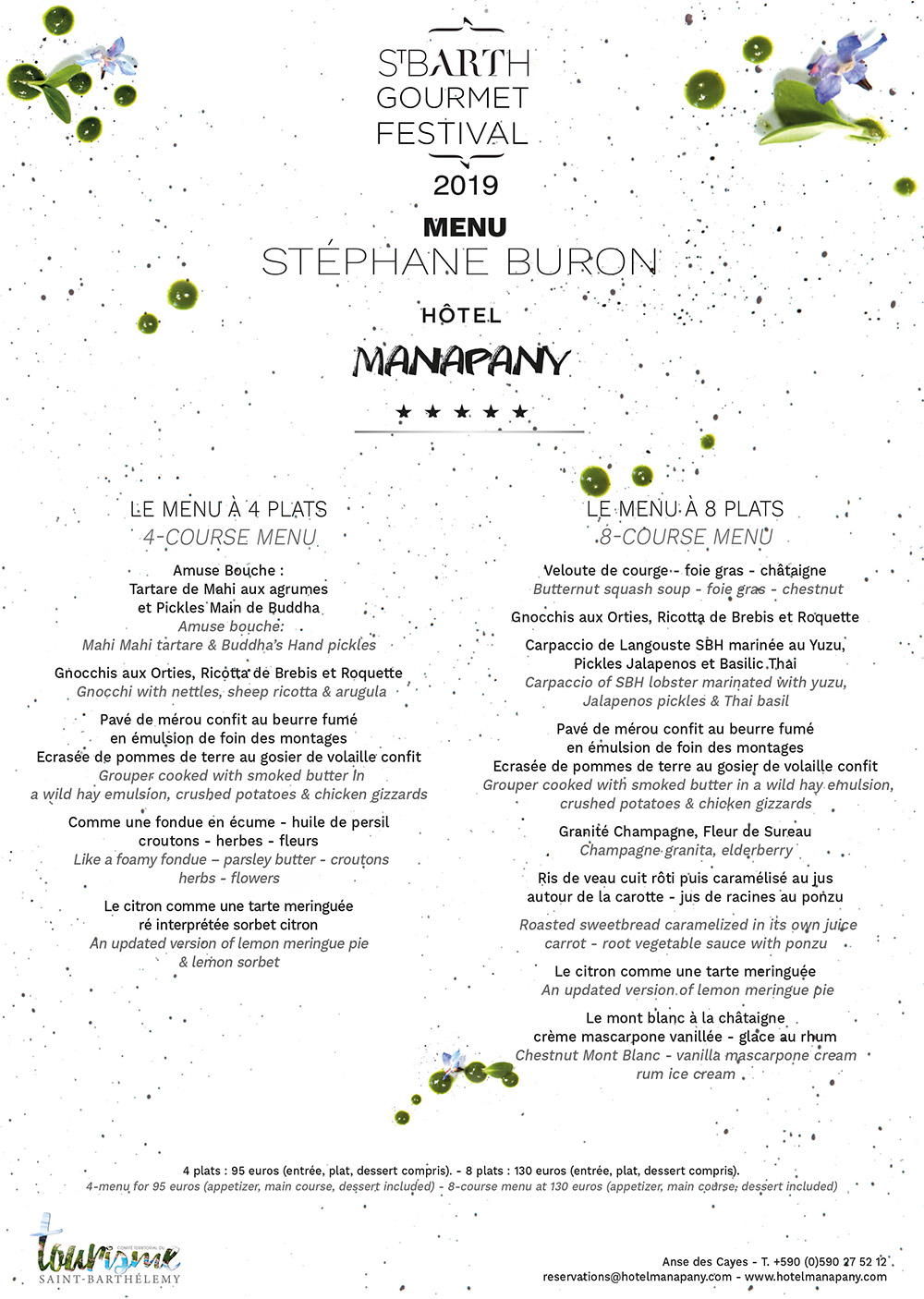 Patrice Vander, his fantastic career path goes through Hôtel Plaza Athénée (Paris), Hôtel Royal (Evian) where he has been working for eighteen years. The Royal Evian is two stars in the famous Michelin Guide. He participates in numerous events aimed at promoting French gastronomy, notably at the Crown Palace Hotel Tokyo (Japan). Find out at the Toiny.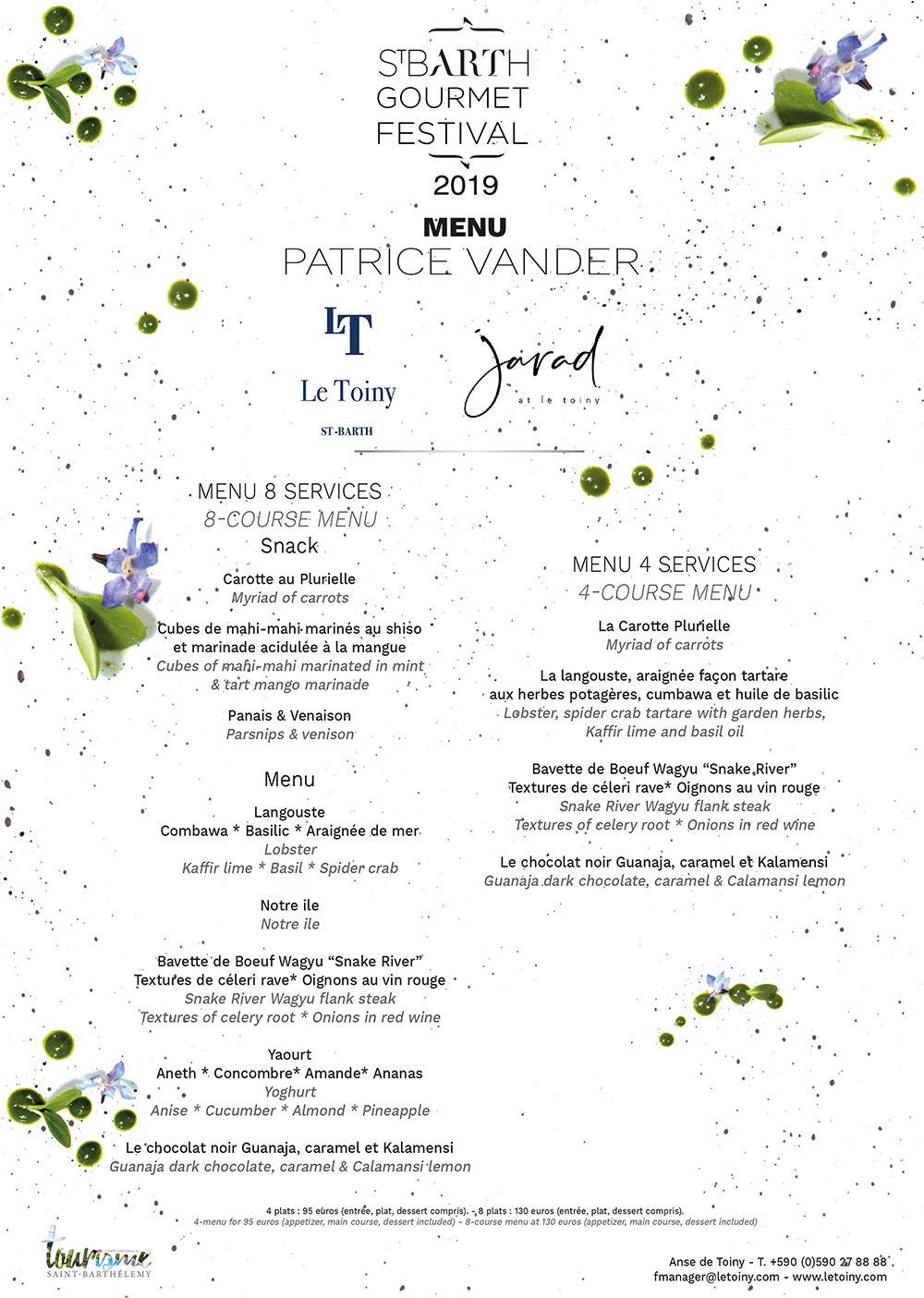 Philippe Jourdin, still a great chef, Relais Louis XIII (Paris), La Tour d'Argent (Paris), Hôtel Noga Hilton (Geneva), at the Moulin de Mougins, under the watchful eye of the late Roger Vergé, the man with one hundred stars in the Michelin Guide, at the Four Season Resort Provence (Tourettes), Hotels la Reserve Ramatuelle Geneve Paris, Café de Paris-Monaco, Royal Palm Marrakech. Since 2015, he has been at Terre Blanche Hotel SPA GOLF RESORT (Tourettes). Discover it in the L'Esprit.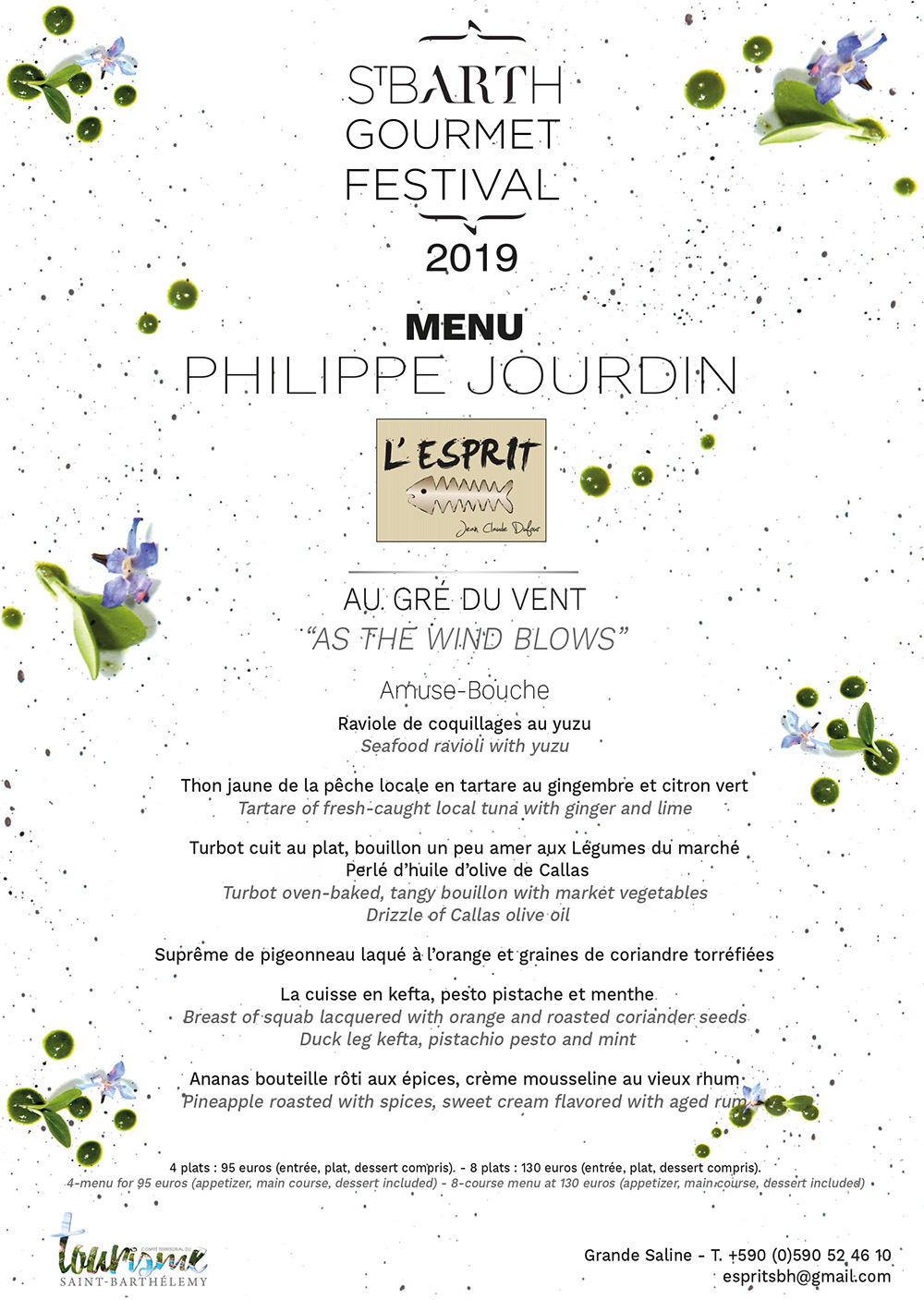 Taku Sekine is a young Japanese chef, he was trained at Ducasse (in Tokyo, then in Paris, at the Plaza Athénée). With his restaurant Dersou, he brought high gastronomy down to the streets. He also runs Le Cheval d'Or, his second restaurant in Paris on the heights of Belleville, in his new restaurant. Discover it at Nikki Beach.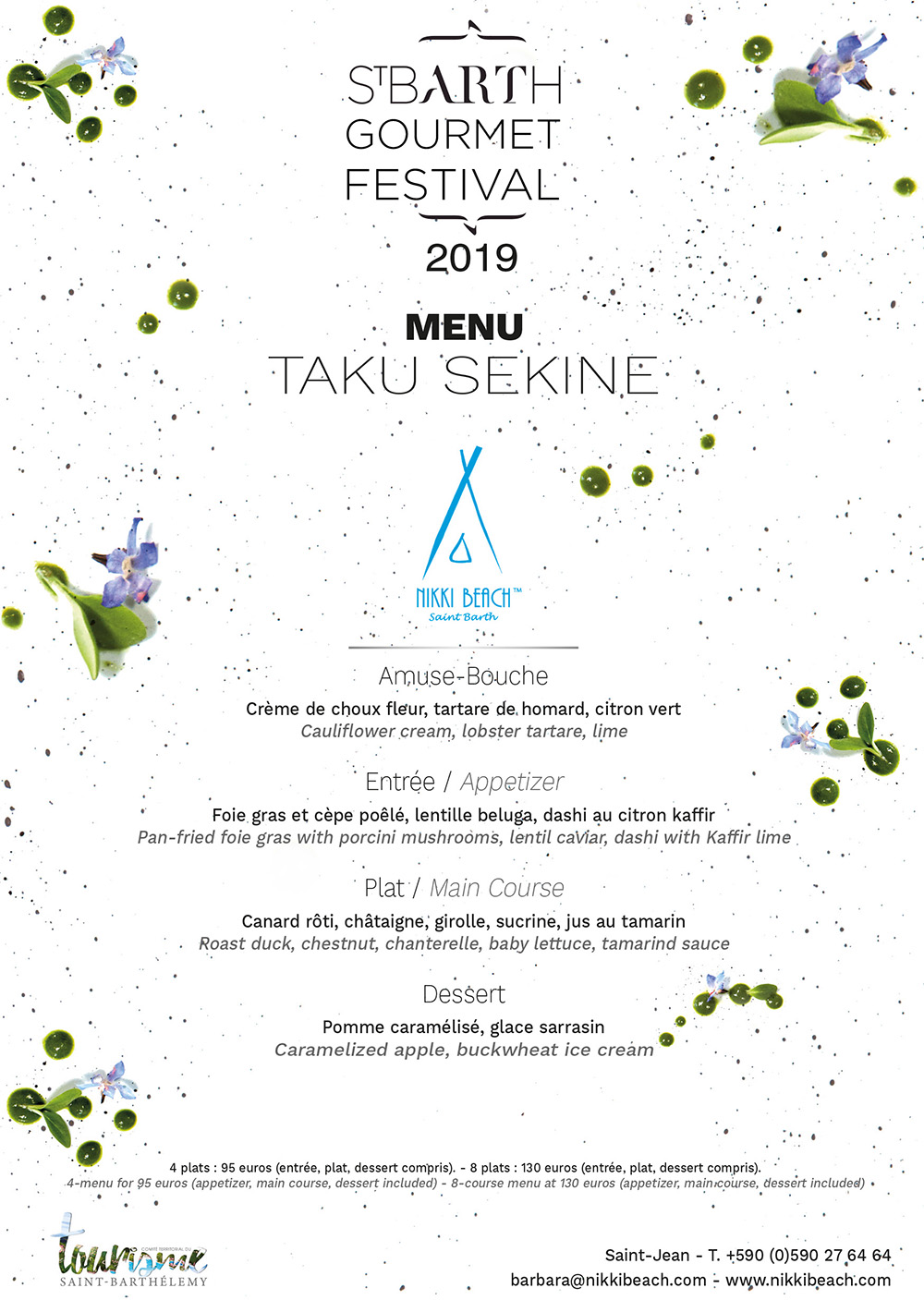 And finally, we end with the presentation of the sponsor of this 2019 edition: Arnaud Faye. He has been in charge of the kitchens of the Chèvre d'Or gourmet restaurant, a two-star restaurant in the famous Michelin Guide, since 2016. Best worker in France in 2019. He was chef of the restaurant l'Espadon at the Palace Parisien Le Ritz. Then, in Mandarin Oriental (Paris), but also in the direction of the kitchens of the hotel Auberge du Jeu de Paume, member of the Relais & Châteaux association, owned by His Highness Prince Aga Khan, in the heart of the domain of Chantilly. Discover the Christopher.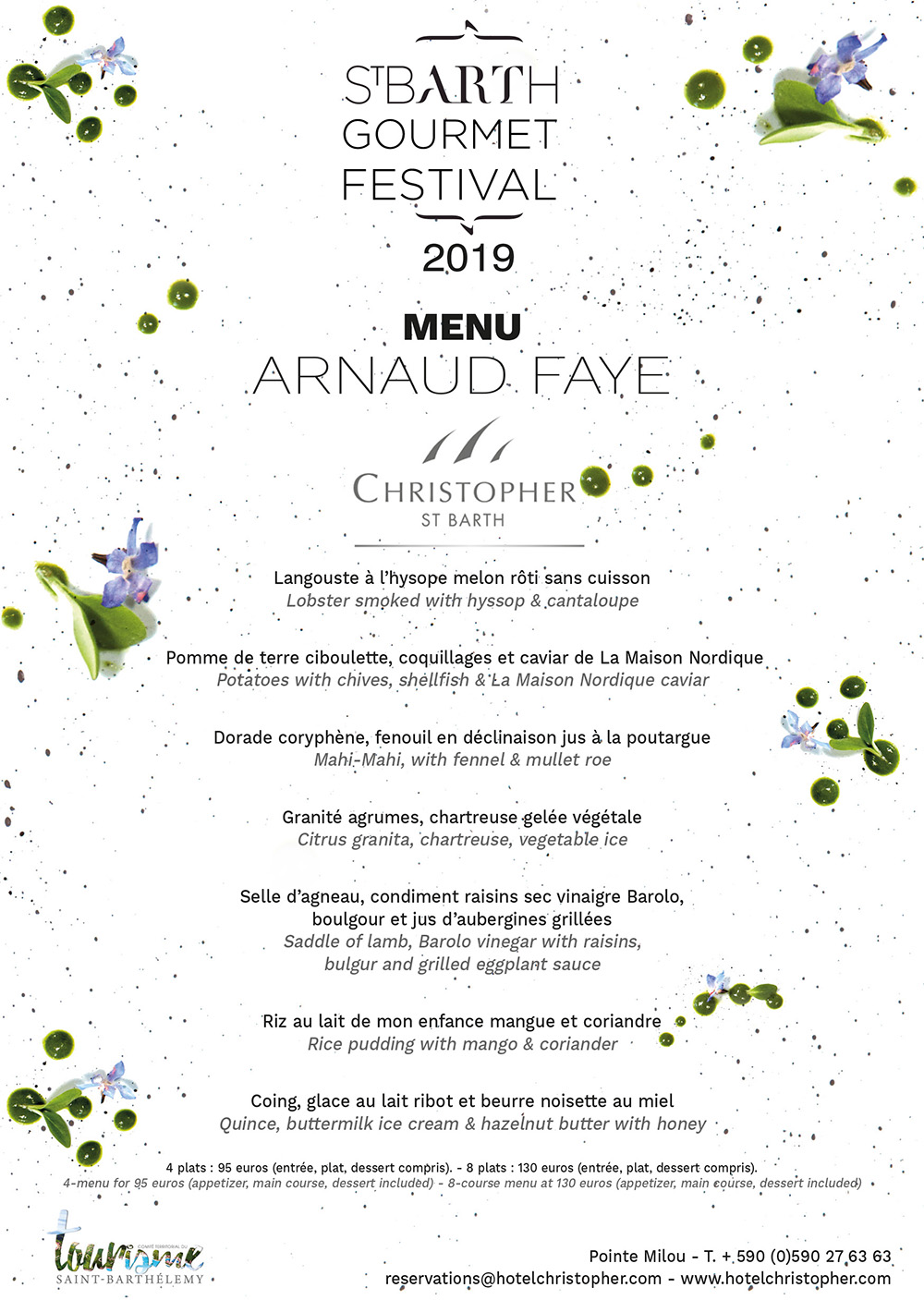 As we will see, this edition will be fabulous and it is imperative to discover each of these talented chefs. Let us thank them for their visits to Saint Barth. But, let's not forget to thank all my partners and sponsors for organizing this event. Tourist Office, Local Authority, Air France, hotels, real estate agencies, suppliers etc…..
We wish you an excellent tasting.