If you want to have the « Made in St Barth » style when you get home: Focus on the sunny creations of Sundjali's jewellery. They are to be discovered in St-Barthélemy, to be declined and above all to be worn!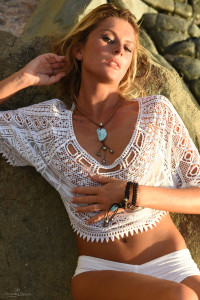 Celine is a young designer and founder of the Sundjali brand. Naturally passionate about the great outdoors, she has travelled extensively. For her creations, she brought back to St Barth, in addition to her boundless inspiration, the kangaroo leather of Australia, the « turquoise of the Caribbean » Larimar of the Dominican Republic, the jade and amber of Mexico and the agatha of Canada, the result of her escapades is very promising: custom-made jewellery, sunny, salty, adaptable and above all made in St-Barth. A Must to have!
Jewellery that can be worn during the day at the beach on a bathing suit, in salt water, but also in the evening in restaurants, under the sunlights of Ti St Barth, in New York, or in Paris on a dress, a t-shirt or a blouse. It's up to you to play with Celine's jewellery variations and your mood. Five jewels in one that can be worn on the foot, wrist, neck, arm and head. Whatever your choice, the effect is guaranteed.
When simplicity rhythms with elegance and « The little rock », you buy your creations and don't forget to put them in the suitcase! I liked the nomadic and adaptable nature of Sundjali jewelry.